Summary
Actifsource 7.0.0 distinguishes between aggregates and compositions (like in UML) instead of ownRelation.
Aggregated resources lead to a separate .asr file on the file system
The lifetime of the .asr files for aggregated resources is managed automatically
Diff/Merge will work with much better performance on separated models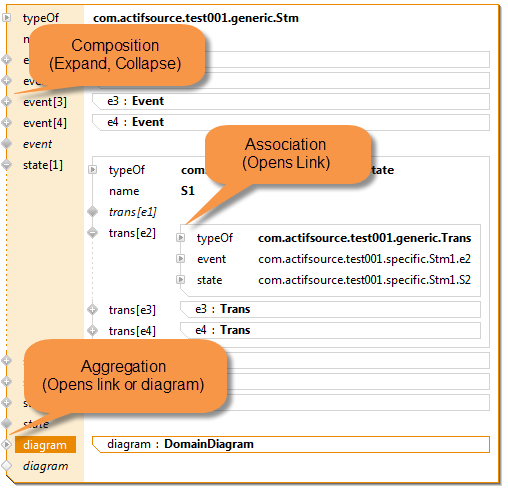 License Restrictions
Use the Actifsource Community Edition for NON-commercial projects only
Known Issues
Eclipse Neon not yet supported


Installing Actifsource on Eclipse Neon is not yet supported

Installation might fail
If the installation fails, delete the .eclipse folder in the user folder
Please note that passwords from updates sites will get lost
See also bugs.eclipse.org

Installing Actifsource
Actifsource sets the memory settings automatically after installing and restarting
The Restart-Button displayed after the plugin installation, restarts eclipse in such a way that it still uses the old memory settings
To prevent OutOfMemoryExceptions you need to completely close eclipse (File, Exit or Close-Button) and start it again
Features
Refactoring
Own/Use-Relation to aggregation/composition/association

Resource Editor


New navigation/visualization concept for aggregation/composition/association
Open domain diagram via resource editor

Core
useRelation becomes association
ownRelation becomes aggregation and composition
Rename Class.relationType to visibilityType
Properties can be sorted according to typeOf
Environment
Class.comment is shown for sub types when creating instances
Animation
GenerateFolderPath can be defined in AnimationTypeConfig
AnimationConfig

GeneralConfig: browserMainTitle, generatesSubPath
ExplorerTreeConfig: showHiddenTreeNodes
DiagramConfig: enableLiveCRC
DiagramNavigatorConfig: diagramOrder
RecordConfig: enableRecordCRD
CIP
CIP DomainDiagram and Cluster switched to Aggregation
Bug Fixes
Environment
Remove properties "New->Actifsource Project" and "New->Resource Folder" for sub-resources in project explorer
Recommended System Requirements
We recommend the following system requirements.
| | |
| --- | --- |
| System | Recommendation |
| Java | Version 8 |
| Eclipse | 4.5 |
| OS | Win 7, gtk Linux |
| OS Architecture | 64 Bit |
| Processor | 64 Bit |
| RAM | 8 GB |
| Disk | SSD |
Configuration (eclipse.ini)
We recommend the following settings in the
eclipse.ini
file.
| | |
| --- | --- |
| Property | Value |
| Minimum Memory Size | -Xms800m |
| Maximum Memory Size | -Xmx4000m |
| Maximum Perm Size | -XX:MaxPermSize=256m |
| Virtual Machine | -vm C:\Program Files\Java\jre8\bin |
Used Open Source Libraries
We have used the following open source libraries in our products. Many thanks to all the developers for providing their great work to the community.
Like us
facebook.com/actifsource
Follow us
News