Known Issues
New Resource Wizard throws exception


The

New Resource Wizard

throws exceptions in certain situations due to a new feature implementation in Release 5.13.0
You may want to wait for Release V5.13.1

Eclipse 4.3.1
beginning with this version Eclipse 4.3.1 should be fully supported, all known issues are solved
starting with the release of Eclipse Luna 4.4 (June 25, 2014), we will drop the official support for eclipse 3.x
Important
Incremental Build
Actifsource is now supporting incremental builds. This feature must be enabled by CIP users (C generator only) because the generated C code is slightly different.
Please modify your
C_CodeOptions
:
CIPSystem.implementation.unit.codeOptions (Create your own code options)
C_CodeOptions.advanced.incrementalBuild (Set this flag to true to switch on incremental build)
Please note that the incremental build is switched off for old CIP Tool projects that are imported to guarantee compatible code.
Actifsource User Manual
Please check out the new Actifsource User Manual. Make sure to know all features to get the most out of Actifsource.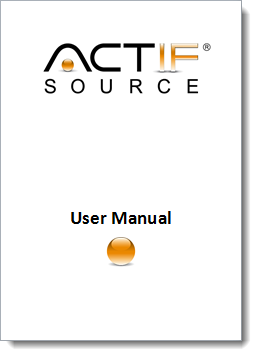 Compatiblity Issues
Renamed ResourceInfo to FunctionContext
Only Code generated with increment-BuildOption enabled gain fullsupport of incremental building, however enabling the option generated differnt code. As a result New CIP-Projects are created with increment buildOption enabled where as import CIP-Project have it disabled.
Features
Core
Renamed ResourceInfo to FunctionContext
Environment
New Resizrce Wizard - DirectAccessButton for important SuperClasses
No error dialog for actifsource unrelated CoreException when TargetPlatformConfiguration is wrong
Generator
Improved comments on BuildConfig & GeneratorTask
Support JavaFileGeneration for aggregated functionscapes
Delete Empty Protected Regions automatically
ClassDiagram
Show name of abstract classes in italics
Show comments as tooltip-text
Display decorating relations with target-Type in square brackets
Show Aggregation/Composition with empty/filled diamond
TemplateEditor
"Create Context"-Quickfix now splits relations with cardilaty x_1 as well, this feature of special handling was confusing and has been removed
MetaDoc
Display decorating relations with target-Type in square brackets
DataType
UML-Statemachine
Support search/edit in UML-StateDiagram
CIP
Incremental BuildOption to support incremental generator
Reworked templates to support incremental generator
Bug Fixes
Diagram
extends-Statement disapearing in ClassDiagram
Wrong shape position when inserting with vertical scrollbar positon not on top
Fixed Typos
Navigator
OperationCanceledException report as error
ResourceEditor
"Change to Non-Virtual"-ContextMenuAction on function in LinkSelector taking wrong selection (wrong target/hidden)
Recommended System Requirements
We recommend the following system requirements.
| | |
| --- | --- |
| System | Recommendation |
| Java | SE 7 |
| Eclipse | 4.3.1 |
| OS | Win 7, gtk Linux |
| OS Architecture | 64 Bit |
| Processor | 64 Bit |
| RAM | 8 GB |
| Disk | SSD |
Configuration (eclipse.ini)
We recommend the following settings in the
eclipse.ini
file.
| | |
| --- | --- |
| Property | Value |
| Minimum Memory Size | -Xms800m |
| Maximum Memory Size | -Xmx4000m |
| Maximum Perm Size | -XX:MaxPermSize=256m |
| Virtual Machine | -vm C:\Program Files\Java\jre7\bin |
Used Open Source Libraries
We have used the following open source libraries in our products. Many thanks to all the developers for providing their great work to the community.
Like us
facebook.com/actifsource
Follow us
News